Bringing together the past and the present!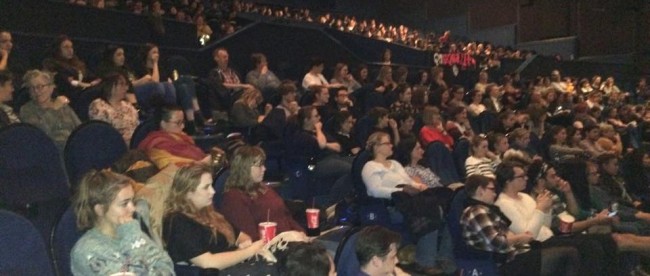 Over 400+ people packed in to see Suffragette followed by a Q&A session lead by Laura Schwartz (author of Infidel Feminism and historian of the women's suffrage movement at the University of Warwick) and Alice Robson (a member of the East-London based collective Feminist Fightback)!
The evening was very inspiring with lots of lively discussion about the film's treatment of class and race – addressing both the film and relevant historical era from an intersectional perspective.
"I have been very excited to see the extent and intensity with which this period of history is currently being debated by feminist activists today. As a historian who is also involved in feminist activism, I believe that histories can be useful for present- day struggles. They are also open to appropriation and abuse, and can be used to quite radically different political ends. The photo shoot of Suffragette actresses wearing 'rebel-slaves' T-shirts is one example, but Sisters' Uncut's protest at its premiere, raising awareness about cuts to domestic violence services, is another. Part of the reason that I've been a bit geeky here in wanting to talk in more detail and with more accuracy about both the class and race politics of the British women's suffrage movement, is because I think that knowing our history helps us to make better use of it in the present. However, possibly one of the most dangerous ways in which the history of a movement like the fight for votes for women can be used, is to see it as a museum piece – as s a quaint example of feminist activism from a time that is well and truly over, to tell women today that the struggle against gender injustice belongs to the past. This is obviously not the case – there is still much to fight for in the present day, with new waves of feminism continuing to emerge."
Laura Schwartz
The money raised will be used to make a donation to Movement for Justice By Any Means Necessary for the upcoming Yarl's Wood Demo.