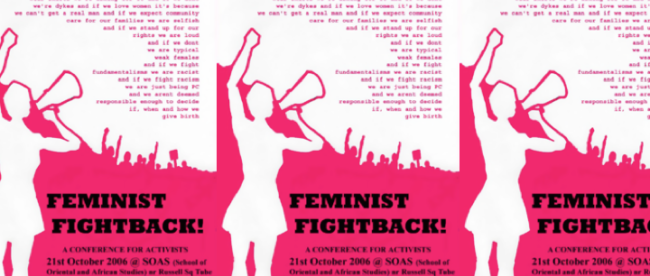 Statement in support of Feminist Fightback Conference, 21st  October 2006
Discrimination and exploitation at work, unequal pay, domestic violence, sexual objectification, denial of reproductive rights, rape, racism, war, poverty and religious fundamentalism… The fight for women's liberation has not yet been won. Women's rights are everywhere under attack, and yet all over the world women are at the forefront of some of the most inspiring struggles for freedom, equality and social justice – as women's rights campaigners, as community activists and as workers.
Despite our continued desire for freedom and equality, too many women today feel that feminism doesn't speak to them.
Too many people think that feminism is about being made to feel guilty for what we do with our bodies or how we express our sexuality; about a group of 'experts' telling other women how to live; or about a handful of rich and powerful women getting to 'the top'. We think feminism is about ordinary women coming together to challenge sexism in their own lives, and to support women around the world demanding their rights.
We want a feminism that fights. A women's movement that is about activism, not just talk; about grassroots campaigning, not just lobbying; about politics, not just about lifestyle choices; and about liberation for all, not just equality for a privileged few.
The Feminist Fightback conference aims to empower women of all ages to fight back against oppression and exploitation. It is a one day event where women can debate the issues which affect their lives, share their experiences, and, most importantly, develop practical ways in which they can turn feminism into activism.