East London Radical History Walk: Sylvia Pankhurst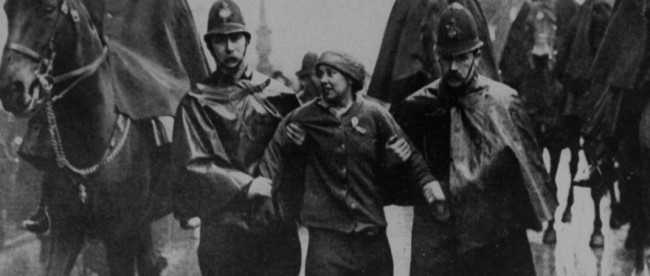 The Feminist Fightback Walking Tour explores Sylvia Pankhurst and the radical women of East London.
Nicely dressed ladies marching in processions wearing their sashes and asking politely for the vote? Random acts of militancy by mentally disturbed young women – Emily Davies throwing herself in front of the Kings Horse at the Royal Derby Races. And then, the First World War came along, all the women knuckled down working hard for the War effort, and afterwards they were graciously granted the vote by the government and that was the end of that.
So where does Sylvia Pankhurst and the East London Federation of Suffragettes fit into that story?
What is often erased in the public memory of the suffragettes is the fact that they were part of a mass movement – a movement that had been building up for fifty years until it reached a fever pitch in the first decade of the twentieth century. A movement made up of men and women, closely connected with the labour movement and a history of radical working class struggle. The other things that's often left out of the BBC drama, sanitised version of the suffragettes is that this movement was about revolution – it was not just a single issue campaign for the vote but part of a general move to radically transform not just the roles of men and women but the whole of society.
At the forefront of this rich and multifaceted movement was the Women's Social and Political Union, led by Emmeline Pankhurst and her daughter Christabel. A second daughter, Sylvia was also a leading member of the WSPU. The WSPU had initially been allied to the newly forming Labour Party, and involved significant numbers of working class women and men. Yet by 1913 Emmeline and Christabel were increasingly keen to recruit upper class women to their organisation which they wanted to re-organise along the lines of disciplined army. Sylvia, however, disagreed. She felt that it was more important to continue to try to build a broad and grassroots movement, rooted in working-class struggles against all forms of exploitation. In 1912 she moved to the East End to pursue these aims.
Click here for the tour script
[flickr_set id="72157649026523823″]