Feminist Fightback Reading Group: Anti-Gender Politics in the Populist Moment – Part 1
July 25 @ 7:30 pm

-

9:00 pm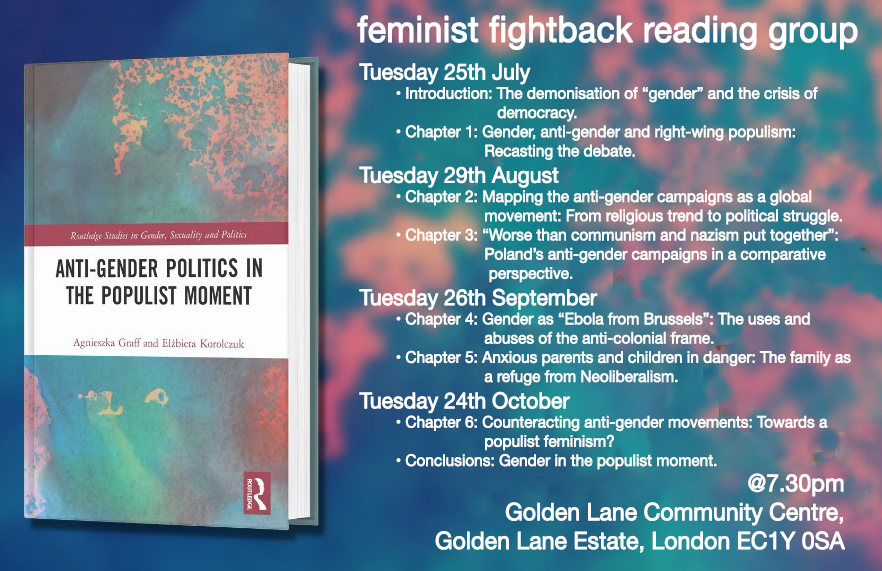 Join Feminist Fightback and friends for our summer reading group. We've taken the decision to replace the book we'd planned for our next reading group with 'Anti-Gender Politics in the Populist Moment'(2023) by Agnieszka Graff and Elżbieta Korolczuk. This book is much more aligned with our politics, particularly around trans liberation and sex work decriminalisation.
'Anti-Gender Politics in the Populist Moment' charts the new phase of global struggles around gender equality and sexual democracy: the ultraconservative mobilization against "gender ideology" and feminist efforts to counteract it, as well as how opposition to "gender" has become a key element of the rise of right-wing populism. The authors map the anti-gender campaigns as a global movement and argue that the anti-gender rhetoric is best understood as a reactionary critique of neoliberalism as a socio-cultural formation.
We're reading 'Anti-Gender Politics in the Populist Moment'  to build our collective understanding of attacks on gender and reproductive rights from the hard right, which is the current focus of Feminist Fightback's activism.
The Open Access version of this book, has been made available under a Creative Commons Attribution-Non Commercial-No Derivatives 4.0 license.
The series will take place over four sessions:
Tuesday 25th July
Introduction: The demonisation of "gender" and the crisis of democracy.
Chapter 1: Gender, anti-gender and right-wing populism: Recasting the debate.
Tuesday 29th August
Chapter 2: Mapping the anti-gender campaigns as a global movement: From religious trend to political struggle.
Chapter 3: "Worse than communism and nazism put together": Poland's anti-gender campaigns in a comparative perspective.
Tuesday 26th September
Chapter 4: Gender as "Ebola from Brussels": The uses and abuses of the anti-colonial frame.
Chapter 5: Anxious parents and children in danger: The family as a refuge from Neoliberalism.
Tuesday 24th October
Chapter 6: Counteracting anti-gender movements: Towards a populist feminism?
Conclusions: Gender in the populist moment.
Please come having read the text. Drop us a line if you would like more details and to let us know if you will be joining, so we have an idea of numbers at feminist.fightback@gmail.com.
These will take place in person at Golden Lane Community Centre, Golden Lane Estate, London EC1Y 0SA. The venue is fully accessible. Please arrive at 7.30 for 7.45 start; we will finish at 9.00pm. All genders welcome.