A discussion article
Across Europe in recent years, the abortion question is back up for public debate.  In Spain, the new Government wants to revert to the stricter abortion laws overturned by its predecessor. In Greece, slashed funding to the healthcare system is threatening women's access to safe and free abortions. In France, they have actually liberalised abortion law. But in the UK we have seen various attacks on different fronts that re-configure the sphere of reproduction, of which women are disproportionately involved in. That this is happening during a time of capitalist crisis is no coincidence. In this article we want to explore an apparent paradox: some states are promoting an ideology of 'the family' and making it harder for women to access abortions at a time of high unemployment and a surplus population (i.e. a population surplus to the needs of capital), at the same time as implementing policies that makes childrearing much harder.
How can we analyse this contradiction and the implications? We suggest that this reflects a contradiction within capitalism itself, namely that on the one hand, from the capitalist point of view, the costs of reproduction of total population are always too high, so it makes sense to keep the population small and allow as many abortions as possible. On the other hand, surplus population fulfills some crucial functions (pressure on wages, effective demand, reserve of labour in times of expansion) and politicians constantly complain about a lack of ("qualified") labour in Western Europe. So, the fundamental contradiction here is that capitalism relies on (the exploitation of) labour (which requires the birth of more babies), but at the same time it will do its best to keep the conditions of reproduction (which does not produce commodities and therefore exchange value) as low as possible (which means less babies). We could conclude that this contradiction will always lead to paradoxes regarding the question of abortion and reproduction more widely.
In times of crisis, this contradiction becomes acutely apparent. In the UK we can see this in the form of various contradictory policies, for example through valorising the 'hard-working family' and (financially) responsible (i.e. middle-class) motherhood while at the same time, the government is making us shoulder more of the burden of reproducing ourselves through the politics of austerity and the Big Society. Abortion is being stigmatised and women pushed into (unpaid) reproductive roles, while at the same time, women are pushed to go back to work sooner after having children and being penalised through the benefits system for even having children, especially as a single mother.
In the UK we can trace a number of policy initiatives affecting 'reproductive rights'. There have been two attempts to reduce the time limit for abortion; once in 2006 from 24 to 21 weeks and again in 2008, from 24 to 20 weeks. While this was primarily a crusade by one MP, Nadine Dorries, it did gain parliamentary support (as well as from anti-choice organisations). While Dorries was defeated, her proposals were deemed politically plausible. Abortion was once again 'up for negotiation' ¡ª symptomatic of overt 'pro-natalist' agitation.
There has also been an attempt to enforce 'independent' abortion counselling for all women wanting an abortion; abortion providers would no longer be allowed to provide counselling themselves. So-called 'independent' counsellors would have opened the door to anti-abortion and religious groups as 'providers'. This proposal failed, but while the 'financial incentive' argument is used by the Conservatives to suggest conflict of interest with abortion providers providing counselling this same argument isn't used when private companies contract to provide other healthcare services in the NHS. This stark double standard single outs and undermines abortion provision.
In 2011, the Health Minister ordered an investigation into the working practices of abortion clinics; it seemed to be a political move with no basis other than creating an atmosphere of mistrust about abortion services.
Privatisation opens the door for organisations with an implicit anti-abortion agenda to deliver services to women. We've seen this with the public funding of pregnancy crisis centres such as Care Confidential that offers biased advice to women.[1]
Also in 2011, pro-abstinence and anti-choice organisations were invited to become members of the Sex and Relationships Education Council (an advisory group to the Government) as well as to their Sexual Health forum. This cements an ideological framework in which decisions are being made. In May 2011 Nadine Dorries attempted to introduce abstinence-only sex education (but only for girls!) in schools. Thankfully though, she failed.
While we could view these attacks on abortion and reproductive services as 'pro-natalist' (in the sense that the consequences make an increase in the birth rate more likely), it is not true that the state just 'wants more babies' as the state is also cutting its 'social wage'[2] responsibilities. More accurate to say that a particular class of child (future labour force) needs to be produced: the child that can financially support itself, is educated, and disciplined. And how will the selection of the 'right sort of mothers' for capital be made? Here, the motivations behind the increasing demonisation of single, young mothers and benefit 'scroungers' by the state and media become clearer. The idea of 'good' and 'productive' reproduction is promoted via ideologically-imposed policy changes. For example, tax breaks for married couples, and the new configurations of state benefits where single mothers receive far less money and are forced to find work after a certain amount of time or do workfare programmes. Meanwhile childcare costs are soaring, housing benefit is being capped, the state is cutting childcare support, more than 400 Sure Start children's centres have closed down, [3] statutory maternity pay is facing a real terms cut.[4] The bedroom tax will disproportionately affect single parents.[5] And the government's 'Big Society' agenda is an attempt to shrink the state's role in the provision of public services.  The overall effects? Firstly, the responsibility to carry out the work arising from "individual reproductive choices" falls on the individual (usually) woman.  Secondly, the 'choice' to have children (those who feel inclined and are able to afford childcare and other costs) will diversify more along class lines. A certain class of mother is being encouraged to pro-create, reflecting the type of labour (and consumer, 'citizen' and worker) that is needed by capital in this current phase.
That all of this occurs in a period of pressure on jobs and wages leads to other considerations. For example, women's unemployment is at a 25-year high, especially as public sector workers, the majority of whom are women, are being targeted for job cuts. The state/capital has to 'do' something with these unemployed women in the short-term without creating any further 'burdens' on the state. One answer is to promote motherhood that removes them from the labour market in the short term and then puts them back into it in worse-paid, part-time work later. These jobs are often more precarious, with fewer employment protections. Such conditions will also lead to new chains of exploitation as care jobs invariably fall to lower stratas of class society, such as illegal and migrant women who receive lower wages and have lower bargaining power and make it possible for middle-class, professional women to continue their 'double burden' of work.  
Within this terrain of conflicting pressures however, in the UK, the birth rate has fallen for middle-class, professional women and risen amongst working class women[6], an inversion of what is expected and happening in other parts of Europe.  How can we account for this? Perhaps middle class women delay having children until they are in a more financially secure position, making it more difficult to conceive (which also explains the recent relaxation of rules around IVF for older women). Rising birth rates for poorer women could be seen as an expression of a 'retreat into the family' when the alternative is working long hours for a wages that does not lift you out of poverty. The retreat to 'family' and 'motherhood' in times of economic crisis is in some ways a reaction to the increasing precarity of employment, even a resistance against the further commodification of labour and marketisation of social relations.
However, in the rest of Europe especially Greece, Ireland and Spain, fertility rates are falling. This is a more expected response to crisis and unemployment, but it also undermines the idea of 'individual choice'. The commonly used language and ideology of defending women's 'choice' over their 'own/individual' bodies by many pro-choice campaigners is therefore politically limited. It fails to address the material conditions under which such choices are made. Liberal and legalistic language of 'choice' disguises the influences and structural constraints in a capitalist society that determine and limit it. And a bourgeois society cannot solve the contradiction between individual freedom and social constraints. Our only alternative is to maintain 'formal individual freedom' but at the same time build collective material conditions and power, which makes a real choice possible.
Whether such a contradictory raft of policies will successfully develop capital's ideal worker/citizen/mother is unlikely, not least due to realities of class struggle. Fundamentally though, the state will always have an interest in control on women's bodies, because one of the main cumulative affects limiting women's reproductive 'choices' will be to reproduce a hierarchical gender divide. The bigger the gender divide, the more women can be exploited by capital, both from their unpaid reproductive labour and in the wage-relation.[7] Stronger controls over women's reproductive capacities strengthens divisions between men and women by making more explicit their different roles within the division of labour. Maintaining women in their 'naturalised' role as childbearers maintains the category of 'woman'. It exacerbates class divisions both between proletarian men and women as well as between different groups of women.
The puzzle of the contradiction i.e. that of restricting abortion at a time of surplus population, remains unsolved. Maybe it's just a knee-jerk response by sections of the state, instinctively trying to rescue the family, even if that contradicts the slump in demand for labour. Or perhaps at times of rising unemployment, women are sacrificed first from the labour market, also because gender ideology enforces the idea of a 'viable'/'natural' alternative towards which they can be routed: motherhood. Why not just leave them unemployed? Because this way they are less of a social threat. Ensuring that people stay locked into nuclear family structures reduces the risk they pose to existing social structures. Restrictions to abortion do not just impact on women and their supposed autonomy. These policies point to a social relation that seeks to weaken our abilities to fight back against the inevitable (at least, within capitalism) decline of the quality of our lives. Defending our reproductive rights also means imagining what kind of future we want to raise children in, and seeking to collectively destroy the systemic (capitalist) limitations that will impede us from doing so.
---
Nadine Dorries MP (Conservative) and Frank Field MP (Labour) have tabled 2 amendments to the Health and Social Care Bill.
Compel any woman seeking an abortion to receive counselling from a organisation that itself does not provide abortion.
Transfer responsibility for setting clinical guidelines for the care of women seeking induced abortion from the Royal College of Obstetricians and Gynaecologists (RCOG) to the National Institute for Health and Clinical Excellence (NICE).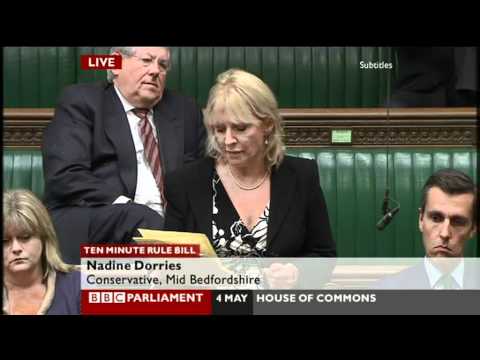 Dorries also tabled a 10 minute Rule Bill (a private members Bill) which require schools to provide certain additional sex education to girls aged between 13 and 16 which includes advice on the benefits of abstinence from sexual activity. This passed 67 to 61 votes. The next reading is in January 2012.
The Right to Know Campaign seems to have emerged in support of these amendments.

A new sexual health forum has been announced to replace the Independent Advisory Group on Sexual Health and HIV. LIFE have been given a place on this new forum but BPAS (part of the old forum) have been kicked off.  The name of this new forum does not yet seem to have been announced, but it is part of the Department of Health.
In Richmond the Catholic Children's Society have won a £89,000 contract to provide advice to schoolchildren on matters including contraception and pregnancies.
Another Christian-run charity , Care Confidential, is involved in providing crisis pregnancy advice under the auspices of Newham PCT. Care's education arm, Evaluate, was one of the founding members, alongside Life, of the Sex and Relationships Council.
Sex and Relationships Education Council (made up of lots of Christian groups including Care, Life, Evaluate) does not have any official role but it is supported by Education Secretary Michael Gove and seems to be well funded.
The real threat to our reproductive rights in the coming years may not come in the form of parliamentary legislations but 'through the back door' via the privatisation of our health system. The Tories Health Bill pushes for increased 'outsourcing' of our health services, which, alongside the private sector includes so-called 'charitable' organisations, which can be unaccountable and biased by their religious beliefs.
The name to watch right now is Care Confidential, an umbrella group for 'pregnancy crisis' centres run by local churches. In 2011, Newsnight and The Guardian revealed that Care Confidential Centres gave misinformation to women seeking advice on whether to seek a termination, and used a training manual which described abortion as an 'evil'.
We've known for a long time that anti-choice organisations such as LIFE have tried to set themselves up as pregnancy counsellors. What's new about Care Confidential is that they are currently seeking to bring all of its affiliated centres up to'commissioning status' standard. This means that under the Health and Social Care Bill they will be funded by our taxes to provide NHS services. One Care Confidential Centre, 'Alternatives Pregnancy Choices' in Newham, East London are already operating under the auspices of the NHS-run PCT.
However, the situation is complicated by the fact that while it used to be run by the charity Christian Action Research and Education (Care), which had a more explicit anti-abortion position, it became an independent charity last year and they are now trying to distance themselves (publicly at least) from its religious, anti-choice origins by saying that they are re-evaluating their materials and updating their messages to reflect "the diversity of people, of different faiths and none". It has become more difficult to condemn Care Confidential outright because of this. Its organisational structure also means their centres are relatively autonomous and therefore variable in quality. This further complicates the picture and is worrying in terms of accountability and consistency of practice in terms of the services offered to women under the NHS banner. We need to consider all of these factors when fighting for the rights of  all women to receive an excellent pregnancy advice service.
The fact is that the Health and Social Care Bill with its agenda of privatisation and local decision-making means that we are at increasing risk of finding ourselves in a situation where NHS sexual health services in our area can be run by Christian churches or other unaccountable organisations – all of whom have their own agendas other than putting the health and personal choice of women first.
This represents as much of a threat to our reproductive rights as Dorries' Abstinence Bill or other parliamentary legislation which reduces the time limit for abortions. We in the Pro-Choice movement need to be alert to the changing political terrain and start seriously resisting the privatisation of the NHS.
Our concerns and what we're doing...

This era of austerity marks a continuing crisis within the capitalist system. We are being pushed in many different directions in terms of where to invest our campaigning energies. While we must defend the existing rights of women in relation to the 'choices' we make with regards to our own bodies, we can also use the opportunity to demand something even better than the existing level and quality of reproductive-related services.

Feminist Fightback is conducting research about sex and relationships education and the effects of changing political structures on women's reproductive services. We are hoping to make links with other orgs interested in these issues and campaign on specific areas in the next couple of months. If you want to get involved please get in touch!
Abstinence and the wider debate…
Nadine Dorries is attempting to introduce girl-only, abstinence-based sex education within the current school sex education programme. However, many schools do not have a comprehensive sex education programme outside of the statutory requirements that relate mainly to biological function. So in many cases, her proposal would mean that girls would receive the abstinence message as their only sex education. That this approach has been shown to be ineffective, harmful and contrary to all evidence as to what works (in terms of promoting good sexual and reproductive health, reducing unwanted pregnancies, promoting healthy, respectful relationships and not essentialising male and female sexual behaviours), it is clear that the argument will not be won at the level of 'facts'or based on the actual needs and experiences of girls and young women.
This case is occurring within the wider context of further efforts to roll back the clock on the gains fought for and won by women to have the right to make decisions about their own bodies. These include: recent attempts by Dorries to further reduce the abortion time-limit; a growing number of American style anti-choice 'pickets'outside clinics; the opening up of pregnancy counselling services to anti-choice organisations; and the invitations to pro-abstinence and anti-choice organisations to become members of the Sex and Relationships Education Council (an advisory group to the Government).
That these attacks are happening at a time of public sector cuts and restructuring that increase the burden of both paid and unpaid work on women further compound the situation and affect women's reproductive 'choices' – such changes will inevitably mean the 'choice' to have children (based upon those who feel inclined to have children, are able to afford childcare and the costs associated with raising children etc.) diversifies much more along class lines.
So how do we defend these rights whilst also maintaining a critical analysis, and further development, of 'choice' within the current crisis?
The Government did not seek to change the abortion laws using the Human Fertilisation and Embryology Bill, however the bill became the focus of others (both pro & anti- choice) seeking to change the lae.
The Report Stage of the Bill was delayed until the return of the House after the Summer Recess. By this time a long list of amendments had been tabled on the Bill. largely organised by John McDonnell MP. The most widely reported amendments in the press were those that would amend abortion law. These included new clauses to:
• Remove the legal requirement for two doctors' signatures to authorise abortions.
• Allow trained nurses and other health care practitioners to carry out abortions.
• Extend the locations where abortions can take place to primary care level.
• Remove conscientious objection in respect to providing emergency contraception provision.
•Extend the 1967 Abortion Act to Northern Ireland.
The Report Stage debate began with a programme motion that moved debate on new clauses to the end of the proceedings. This effectively prevented any of the abortion law amendments from being heard.
A number of other MPs spoke against the motion; this included the following contribution from Diane Abbot:
"I speak against the programme motion because—and I say this with no pleasure—it and the order of discussion appear to be a shabby manoeuvre by Ministers to stop the full debate of some very important matters. I appreciate that Ministers did not intend this to be a Bill about abortion. I am open to the argument that we should have another piece of legislation that would enable a full debate on most of the matters in relation to abortion that have been raised as amendments and new clauses to the Bill, but there is a special case for debating and voting on the particular new clause that I tabled to extend the 1967 Act to Northern Ireland."
The Abortion Act 1967 never extended to Northern Ireland, where abortion continued (and continues) to be regulated by provisions in criminal law. Criminal law remains reserved under the Northern Ireland Act 1998 but is due to be devolved to the NI Assembly as part of the St Andrew's Agreement.
Legal basis for abortion in NI
In response to uncertainty regarding the legal position of abortion in NI, the NI Department of Health, Social Service and Public Safety (DHSSPS) issued guidelines in March 2009. These state that an abortion would only be legal where:
• it is necessary to preserve the life of the woman, or
• there is a risk of real and serious adverse effect on her physical or mental health, which is either long term or permanent.4
Fetal abnormality is not in itself grounds for an abortion under NI law, and the definitions of risk and serious adverse effects tend to be more strictly interpreted than the corresponding grounds in the Abortion Act 1967 which apply in the rest of the UK.
Attempts to change NI abortion law
During the parliamentary stages of the Northern Ireland Bill in 1998, Ministers said that it was the Government's intention that responsibility for criminal justice matters, including abortion, would be transferred to the Northern Ireland Assembly when conditions were appropriate.6 In the meantime, the Government was aware of the strength of feeling on the issue in Northern Ireland, and pledged that it would not impose any change on the people of Northern Ireland against their will.
Most recently, an attempt was made to extend to extend the Abortion Act 1967 to Northern Ireland during passage of the Human Fertilisation and Embryology Act 2008. Amendment NC30 was tabled on 22 July 2008, after the committee stages:
To move the following Clause:— '(1) Section 7 of the Abortion Act 1967 (c. 87) (short title, commencement and extent) is amended as follows. (2) For subsection (3) substitute— "(3) This Act extends to Northern Ireland."'.
The Minister of State, Department of Health, Dawn Primarolo, successfully proposed a programme motion at the commencement of the debate on the Bill's Third Reading on 22 October 2008. This had the effect of ending debate at 6pm and placing debate on new clauses third in the order of proceedings. No clauses relating to amendment of the Abortion Act 1967 were subsequently considered. In debating the programme motion the proposed amendment relating to Northern Ireland was raised by both Diane Abbott and John McDonnell MP.
Definitions
Abortion is the commonly used term for the termination of an established pregnancy, where "established" is taken to mean that the embryo has implanted in the uterus.
The Abortion Act 1967 came into effect on 27 April, 1968 and has since been amended only once, by Section 37 of the Human Fertilisation and Embryology Act 1990. The Act permits abortion in Great Britain (not including Northern Ireland) by registered practitioners subject to certain conditions.
The Act is unusual in its provision of a 'conscience clause' which allows doctors and other health care professionals to override any contractual obligations and opt out of performing abortions
Grounds for abortion
All abortions other than those performed as an emergency require approval by two registered medical practitioners and must be performed in facilities registered for this purpose. The grounds for permitting abortions under Section 1 of the Abortion Act 1967 as amended are:
(a) that the pregnancy has not exceeded its twenty-fourth week and that the continuance of the pregnancy would involve risk, greater than if the pregnancy were terminated, of injury to the physical or mental health of the pregnant woman or any existing children of her family
(b) that the termination is necessary to prevent grave permanent injury to the physical or mental health of the pregnant woman; or
(c) that the continuance of the pregnancy would involve risk to the life of the pregnant woman, greater than if the pregnancy were terminated; or
(d) that there is a substantial risk that if the child were born it would suffer from such physical or mental abnormalities as to be seriously handicapped.
Definition of 'handicap'
Neither the Act nor the courts have provided legal guidance on the degree of serious handicap which is sufficient to invoke Section 1(d), leaving the interpretation to the opinion formed in good faith of two doctors.
Parliament decided in 1967 that one of the grounds for an abortion is, "that there is a substantial risk that if the child were born it would suffer from such physical or mental abnormalities as to be seriously handicapped." Parliament did not define serious handicap in the Act. Indeed, it chose to leave this to the expert judgment of the two doctors involved, who are required to form their own opinion about the seriousness of the handicap the child would suffer if born, taking into account the facts and circumstances of each individual case. The Royal College of Obstetricians and Gynaecologists' guideline Termination of Pregnancy for fetal abnormality (1996) gives advice to medical practitioners and also states that if an abnormality has been detected and two medical practitioners are of the opinion that there are grounds for a termination under the Abortion Act, then the woman should be advised that she has this option.
There has been one attempt to legally challenge the decision of two doctors who authorised a post-24-week abortion in a case of cleft lip and palate (Jepson v The Chief Constable of West Mercia [2003]). The complainant was successful in achieving a judicial review but the Crown Prosecution Service decided against pursuing the case on the basis that the doctors had acted in good faith and that the risk of serious handicap was substantial.
In 1970, 560 women came together at Ruskin College, Oxford for the first UK women's liberation conference. The activist network Feminist Fightback met in London on 2nd May to look at how far we have come 40 years on, inviting all genders to "consider what feminism looks like today, how the struggle continues, and put the battles women fight today in the context of the history of the women's movement."
To aid comparisons of the women's movement then and now the programme included two films: A Woman's Place (Journeyman Pictures, 1970) and an episode of the BBC series on women, Activists (broadcast, March, 2010). Post introductions, the Feminist Fightback meeting continued with screening the 1970 film, which included footage of the Ruskin conference and The International Women's Day March held in London in 1971.
A great sense of urgency surrounded the Ruskin conference. Many more women than the organisers expected showed up for the event. Whilst women across the class spectrum were enlivened by each other's speeches and debate men were presiding over a crèche in the wings. Even long dead men honourably remembered by other men with head and shoulder busts in their image were not privy, women having covered them with shawls and scarves.
All aspects of women's lives were considered in the context of British society in 1970 – Women in prison, trade unions, housework, childrearing, for instances. One woman spoke of the need for "our children to be liberated from us", implying a suffocating atmosphere presided over family living, women isolated and confined by the mother role. Women questioned whether the so-called "maternal instinct" was a real or imposed thing. They talked of possible alternative family structures where other adults and not the mother alone have childcare responsibilities such as communes. One middle-aged working class woman, wholly unused to speaking before a large audience, grew in confidence as she spoke of her life as a housewife and mother of four children as a life of missed opportunities. Another woman said she would like not to be thought a freak because she had no interest in children whatsoever. Women discussed the thorough injustice of their economic dependence on men, their work as mothers going unacknowledged and unpaid and the political implications of that – reproducing a workforce for capitalism whilst simultaneously being disenfranchised by that system.
The conference ended with the women agreeing on four basic demands:
1. Equal Pay
2. Equal Educational and Job Opportunities
3. Free Contraception and Abortion on Demand
4. Free 24 hour Nurseries
Some months later 4,000 women took to the streets of London for the International Women's Day March with placards and banners demanding these basic rights. They presented their petition in writing to 10 Downing Street. The seriousness of their demands to tackle the inequalities imposed on them by virtue of their biology did not stop these women's enjoyment of the march. There was a carnival atmosphere. A needlework dummy bound to a crucifix was held aloft by some women while others dance-exercised ironically to Eddie Cantor's 'Keep young and beautiful, its your duty to be beautiful'. One woman mocked beauty pageants, her sash reading, 'Ms Stress'. Clearly the Ruskin conference had been a resounding success, women politicised and adamantly seeking immediate changes to an unjust system.
So how are things looking in 2010?
The sad answer is, not very good at all. In spite of the Equal Pay Act implemented in 1970 and the various adjustments made to it since women are still lagging behind men in financial status. They are far more likely than men to work in part-time employment as they are more usually the primary carers of either children and/or disabled or elderly relatives. Part-time work such as care-work or cleaning is given low status and is extremely poorly paid. The model of 'superwoman' is held as the ideal. Women are urged 'to have it all' – both the children and the career. This can effectively mean that you either pay – usually another woman – a low wage for childcare, or if lowly paid yourself, childcare will take up a disproportionate amount of your income.
Feminist Fightback are currently involved in a campaign to save Hackney nurseries, "cuts … being handed out in a piecemeal fashion, with no warning to nurseries all over Hackney." Thus nursery fees go up and living standards go down making rubbish of Labour's insistence that they were fighting to reduce child poverty. And Britain with a Tory prime minister is sure to make matters far worse, a part of the Tory/Liberal pact being to immediately put into operation Tory's plans to severely cut funds to all public services so to appease the IMF (America's chief say-so).
And so to the BBC4 documentary, where the feminist activists concentrated on made all these social conditions notable by not mentioning any of them. Finn Mackay is the founder of the London Feminist Network and Co-founder of the Feminist Coalition Against Prostitution and it was these movements that the documentary wholly centred around. Mackay is described on her blog, "She is a well-practiced public speaker with particular emphasis on violence against women, prostitution and feminism in the UK." Indeed, she appeared a charismatic leader in the film as with a raised fist she delivered her speech at The London Feminist Network's Conference to an all women audience, many of whom were in floods of tears.
The interviewer asked woman after woman what her chief concerns were regarding feminism. Cited were just these: male violence against women, prostitution, pornography and sexual objectification. There was much belittling of these women by the programme makers. They were mostly young, middle-class women living at home with their parents. Parents were also interviewed and rather geed along when showing prejudice against their daughter's activism, one mother saying she could not understand her daughter's penchant for dressing up while protesting against objectification.
Feminist Fightback rightly cut a huge swathe from this film that concentrated on food preparation for the LFN conference – veganism read as joyless Puritanism by the film-maker, and the viewer impelled to think likewise. Campaigns by LFN include Reclaim The Night, 'Bin the Bunny' (referring to the cynical use of the Playboy bunny emblazoned across children's clothes etc.) One woman spoke of the horrific event that had made her become an activist in the movement: recounting that after her daughter's friend had been gang raped, the police later made charges against her saying that she had perverted the course of justice, citing mobile phone footage her attackers had filmed. They eventually succeeded in getting the charges dropped but were further shocked to learn that there were no rape crisis centres in the whole of London.
There was some extremely disturbing footage of women from the LFN shouting "shame, shame" at people entering a lap-dancing club. They were shouting this as much at the female employees as at the male audience, creating divisions between those women and themselves.
After the film showings the mostly women crowd present at the Feminist Fightback event came together to discuss the films, make comparisons and consider the feminist movement today. In the lively discussion, personal experiences were used as much as the historical perspectives raised by the films.
Much noted was the absolute absence of considerations surrounding class or indeed any other political analysis in the BBC4 film. Women spoke of their concerns about others considering feminism an outmoded if not dirty word. There was consensus that we should openly and unashamedly say that we are feminists to other women and men. How this consciousness raising is exercised was another problem discussed – not wanting to come across preachy, for instance.
We discussed the issue of objectification so concentrated upon by the women from LFN. Participants articulated the belief that the media perpetuated women's concern with their bodies by constantly documenting this apparent all consuming concern, anorexia, for instance, being a favourite topic of documentary makers. We discussed society placing such high value on being in a couple. One woman quoted a bride's speech, "I was nothing till I met you", "now I am complete". People expressed concern over feeling that you had to do your best to feign interest in wedding preparations – cooing over the dress for instance, women feeling that they would otherwise endanger friendships, though they are not allowed the space to say, "this is shit".
Many considered that LFN's demand to have porn banned by the state was not a progressive argument, and indeed a simplification of matters, particularly demeaning porn being a symptom that needs to be attacked via its root causes and likewise the LFN's attitude to prostitution; Feminist Fightback are demanding that sex-workers be decriminalised.
There was consensus that the BBC4 programme was horribly malicious and a farcical comparison with the 1970 Journeyman film. And what of women's own sexuality and their enjoyment of sex, should this not be talked about?
Many other subjects were touched upon at this meeting. In fact all of the grass-root feminist concerns the women from the 1970 Ruskin conference were talking about then are still very much the concern of Feminist Fightback now. It is a terrible shame that the media present body image and objectification issues above all else as grass-roots feminism, when you only need to watch A Woman's Place to know that that is absolutely not the case. Feminism must be bound with political activism.
by Sharon Borthwick

Sunday 2nd May, 2pm – 6pm
Marchmont Community Centre, 62 Marchmont St, London WC1N 1AB
£3 suggested donation waged/ £1 low/unwaged
Creche provided, please contact us in advance if you will be bringing your child(ren)
This venue is accessible.
Tubes: Russell Square, Kings Cross, Euston, Euston Square.  Rail: Kings Cross, St Pancras, Euston.
All genders very welcome.
In 1970 hundreds of women gathered for a free conference at Ruskin College that would launch the Second Wave of feminism. As men provided the childcare, women discussed and debated ideas and experiences, and identified what the aims of the Women's Liberation Movement as they saw it, should be.
Feminist Fightback invite you to an afternoon of film showings and discussions as we think about how far we have come, what feminism looks like today, how the struggle continues, and put the battles women fight today in the context of the history of the Women's Liberation Movement.
Films will include:
Journeyman Picture's A Woman's Place (1970)
Excerpts from the BBC's Women series (2010)
And then….Let's Dance!

join us for an evening of music, drinks and BBQing

7 – 11pm @ Freedom Bookshop, Angel Alley, 84b Whitechapel High Street, London E1 7QX

small entrance fee will go towards struggle of the cleaners at UBS in the City who are organising against their exploitation at the hands of union-busting bosses.

Please call Laura on 07971 842027 or email feminist.fightback@gmail.com for more information
What: An evening of making trouble, sharing ideas and planning ways for women to fight back against the crisis, hosted by Feminist Fightback.
When: Tuesday 30th June, 5pm, and 6.30pm
Where: Paying a visit to Harriet Harman, Southwark Townhall (5pm), followed by film showing (6.30pm) at Studio 96, The Galleria, Pennack Road, SE16 6PW
All genders welcome!
This is a fundraiser for Lambeth Women's Project www.lambethwomen.wordpress.com
Harriet Harman, Minister for Women, thinks that a 'feminist' response to the recession would be to place more women in top city jobs, putting them 'in charge of the banks'. Meanwhile Harman supports the Welfare Reform Bill, which proposes to introduce US-style 'workfare' practices, forcing mothers of young children into minimum wage jobs or risk losing their benefits.
Harriet Harman likes to talk up her feminist credentials, but what kind of feminist only looks out for the interests of rich women during times of economic crisis? In fact, Harman has a long track record of selling out the majority of women she claims to represent – most recently playing a key role in blocking a Bill to legalise abortion in Northern Ireland. If this is how the Minister for Women is going to act on our behalf, then we can do without her!
Fortunately, Harriet Harman's feminism isn't the only kind on offer. Many women in London are organising to resist the iniquities of capitalism – from the parents occupying Lewisham Bridge Primary School to protest against its privatisation; to hostel residents demanding decent housing in Hackney; to the Visteon workers who occupied their factory and finally won their redundancy.
Feminist Fightback has also been organising grass roots resistance to some of Harman's biggest sell-outs during her time as Minister for Women – occupying the Department for Work and Pensions in protest against the Welfare Reform Bill, and taking direct action in solidarity with Northern Irish women who continue to be denied the right to control their own bodies.
Feminist Fightback invites you to join us outside Southwark Town Hall to show Harriet Harman that women have been fighting back in ways very different to those she proposes. We'll be 'decorating' the Town Hall, sending messages to Ms Harman in a variety of 'creative' ways, and inviting our Minister for Women to come out and take a look!
This will be followed by a film showing introducing a number of women-led struggles taking place at the moment. We want this to be an opportunity to find out what's going on in London; to make links with other women's groups; and to find inspiration for how we can act collectively to take control of our workplaces, our communities and our lives.
GENDER/ RACE/ CLASS:
AN ANTI-CAPITALIST FEMINIST EVENT

Saturday 14 February 10.30am-6.30 pm, School of African and Oriental Studies, Thornhaugh St, Russell Square, London, WC1
Fully accessible venue. This event is free!
for more info see www.anticapitalistfeminists.co.uk
to register email anticapitalistfeminists@gmail.com
Discussing and organising our fight for women's liberation – open to all those who want to learn, think and plan for grassroots feminist activism… Join us for workshops which identify the interconnections between oppressions and our struggles against them. Work together with other feminists to find ways to actually change the material conditions of women's lives.
Workshops include: learning from feminist history/ sex workers' rights/ challenging domestic violence/ international solidarity/ a woman's place is in her union?/ reproductive freedoms/ rape and asylum/ community organising/ queer and trans politics/ prison abolition/ self-defence workshop/ feminists and the capitalist crisis/ films, stalls and campaign planning
Organised by a coalition of groups and individuals. Groups involved so far include: Anarcha-Fem Kollective, All African Women's Group, Black Women's Rape Action Project, English Collective of Prostitutes, Education Not for Sale Women, Feminist Activist Forum, Feminist Fightback, Left Women's Network, London Coalition Against Poverty, Permanent Revolution, RMT Women's Committee, Women Asylum Seekers Together, Women Against Rape, Workers' Liberty.
Feminists chain themselves to Department of Health – protesting for Abortion Rights to Northern Ireland.
On Monday 20 October at 8.30am, feminists chained themselves to the Department of Health and obstructed access to the building to add to the public pressure for access to abortion to be extended to Northern Ireland. Around 40 activists came to offer support, to demonstrate and to leaflet the public – photos of the action online here: Feminist Fightback Flickr: 20th October action.
Activists from across the north of the country also gathered in central Manchester on Monday 20th October to take part in direct action in solidarity with women in Northern Ireland. Feminist Fightback and Alliance for Choice (pro-choice Northern Ireland group) called for joint action across the country to support pro-choice amendments to the Human Fertilisation and Embryology Bill in Parliament on 22 October 2008. In Manchester students from Manchester University Student Union, Sheffield and trade unionists from the area tied themselves to railings in a park in central Manchester — each activist carrying a sign to spell out 'Extend Abortion Rights to Northern Ireland'.
During the run up to the vote on the bill Feminist Fightback produced a briefing aimed at MPs calling for support for the pro-choice amendments which we are asking people to sign. The briefing: "A call from pro-choice trade unionists, students and feminist groups for MPs to defend and extend reproductive freedoms" can be found here.
Activists from Feminist Fightback will be attending the Annual General Meeting of Abortion Rights and pressing for outlining a campaign for full reproductive freedoms as well as ideas for grassroots campaigning. Read more about it and see our motions here.
Sign the following statement: A call from pro-choice trade unionists, students and feminist groups for MPs to defend and extend reproductive freedoms
On Wednesday 22nd October the Human Fertilisation and Embryology Bill will have its Third Reading in the House of Commons. Various pro-choice and anti-choice amendments have been tabled. Rumours have been circulating this week that time will not be given to debate the amendments and that pro-choice amendments may be shelved under pressure from Labour Ministers.
We urge you to:

- Lobby the government to ensure sufficient time is given to discuss and vote on these crucial amendments
- Vote for the pro-choice, pro-women amendments and support a woman's real right to choose.
In May we successfully defended the time limit, protecting the rights of the small but significant number of often vulnerable women who require a late abortion. However, anti-choice MPs have tabled more amendments at the Third Reading Stage, namely increasing the number of doctors required to approve later abortions; restricting the grounds for abortion on the grounds of certain foetal amendments (including those after 24 weeks); imposing counselling and 'cooling off' delays; and restricting abortion on mental health grounds. These must be opposed.
MPs should be looking to extend a woman's right to choose by abolishing the two doctor requirement, enabling access to abortion in Northern Ireland; allowing nurses to perform first trimester abortions; allowing more local abortion services for example at GP surgeries; allowing the second part of an early medical abortion to be taken at home; and banning deliberately misleading advertising. These amendments are all designed to make a woman's access to abortion easier, less distressing and without the current unnecessary delays. This is the first chance to extend our limited abortion rights in 18 years – let's not let it pass.
Oppose the restrictive amendments and vote to extend a woman's right to choose

When women won the right to choose in 1967, it was a big step towards women having control over a crucial part of our lives, the decision of whether and when to have children. Abortion rights continue to be central to women's equality and liberation. Childbirth is an arduous physical process which changes the body forever and we don't believe the state should force women to undergo it.

The anti-choicers want to chip away at our abortion rights until we have none left at all. These are not one-off amendments attacking specific elements of reproductive freedom, but one stage in the process of attempting to remove a woman's right to choose. Oppose the amendments because:

- Increasing the number of doctors in later abortions is based on the belief that women cannot make up their own minds. Every woman should have the opportunity to discuss her individual case with as many health professionals as she needs to, but she should not have to beg for a medical procedure to be carried out on her own body. Women must be treated as responsible and their decisions respected.

- The Disability Rights Commission does not support any amendments to abortion law regarding foetal impairment. Like them, we believe the rights of disabled people need drastic improvement, but this does not begin with attacking a women's right to choose.

- Imposing counselling and 'cooling off' delays and only allowing an abortion once a woman has been deemed by a 'mental health expert' to face a 'serious' risk to her mental health by continuing with the pregnancy will mean further distress and delay for women and force them to listen to biased information about the 'psychological risks' of an abortion. Once a woman has taken the decision to have an abortion it is wrong to delay the procedure, and it is this that has potentially damaging psychological effects. Under our increasingly privatised and fragmented National Health Service abortion is a postcode lottery, with many women struggling to access safe and timely abortions, this situation will only get much worse if this amendment is to pass.

The tabled pro-choice amendments represent a historic opportunity to extend women's rights by removing unnecessary and potentially dangerous barriers to abortion.

Amendments include increasing the pool of abortion practitioners and allowing abortions to be performed in GP surgeries and family planning clinics as well as hospitals and abortion clinics. On 29 October 2007 the Commons Science and Technology Committee published a review of the 1967 Abortion Act. The committee found that the need for two doctor's signatures was causing unnecessary delays and that there was no evidence of its value in terms of safety, and that as the development of Early Medical Abortion has allowed for an easily-administered procedure nurses and midwives with suitable training and professional guidance should be able to carry out early abortions.

Responding to the report, Ann Furedi, Chief Executive of BPAS (British Pregnancy Advisory Service) said, "An evidence-based report like this shows up the forty-year-old Abortion Act, which was framed in a different era of medicine, as now looking a little threadbare. Surely laws should be able to respond over time to permit doctors and nurses to offer the best possible practice?"

In addition, deliberately misleading advertising must be banned if women are to make informed choices. The lies, manipulative words and images used by anti-abortion organisations operating under the guise of neutrality are deeply damaging.

MPs, we urge you to listen to the evidence and to not only defend our rights but to extend them in order that women have genuine access to abortion.
Extend abortion rights to Northern Ireland

The 1967 Abortion Act does not apply to Northern Ireland. This means that any woman who is pregnant and does not wish to continue with the pregnancy, even in cases of rape or incest, must raise the £1000-£2000 needed to travel to and have an abortion in England. This is a difficult experience for the 40 women every week who travel abroad, often alone, for the procedure. If she is part of the majority of Northern Ireland's society that is on, or below the poverty line, then in all likelihood she will be forced to continue the pregnancy. Or she may try to cause an abortion herself, for example by taking pills bought over the internet. 11% of Northern Ireland's GPs say they have seen the results of amateur abortions – which can leave women needing surgical procedures. These pills should not remain the only choice for women in Northern Ireland, or any woman.

Politicians on all sides would have us believe that there is no support in Northern Ireland for abortion rights to be extended. Tell this to the 40 women a week who travel to have abortions, or to those who can't. All the larger unions: UNISON, UNITE and NIPSA (The Northern Ireland Public Service Alliance) have policies that support extension of the Act. Some politicians argue that these are British unions "imposing" their views on Northern Ireland, but this is clearly wrong – the policies are passed at Irish or Northern Irish regional conferences and NIPSA, the largest union in the region, organises only in Northern Ireland.

Politicians have been told that abortion will be devolved along with criminal justice in the next few months and after that there will be very little chance of Northern Irish women getting the legal right to have an abortion. Women in all parts of the UK should have an equal right to choose whether to have, or not to have, a child.

This is a question of democracy

The government took a back seat in the Second Reading by announcing a "free vote" – ultimately giving into pressure from religious groups by arguing that this is a matter of conscience. Much of the debate has been characterized by opposition to the bill from religious groups and anti-choice MPs – so much so that in the Third Reading, the government is now widely rumoured to be attempting to restrict debate using the programme motion. This could mean that only four hours are given to discuss these essential amendments and if filibustering is engineered then they might not be discussed and voted on at all.

We urge you to vote against the programme motion and lobby for a full debate on the pro-choice amendments. This is a question of human rights and of democracy: the arguments must be heard.
What should the demands be?

It is crucial that you vote to defend and extend the legal right to choose. However, a real right to choose to have, or not have, a child requires broader changes in society. These include:

- The right to abortion on demand, this means an end to having to get the consent of two doctors

- The extension of abortion rights to women in Northern Ireland

- Abortion to be integrated into the NHS as an ordinary medical service

- An end to privatisation and fragmentation of the NHS: increased public funding to guarantee free and equal access to abortion

- Improved access to and increased choice of publicly funded contraception

- Clear, honest, comprehensive and confidential sexuality and relationship education which addresses issues of consent and domestic violence

- A real "right to choose" which means the right to have a child free from economic and social pressure. This requires a real living wage for all workers, benefits which can be lived on and rise with earnings, universal publicly-funded childcare and an end to the stigmatisation of single mothers.
What can you do?

We urge you to:

– Lobby the government to ensure sufficient time is given to discuss and vote on these crucial amendments
– Vote for the pro-choice, pro-women amendments and support a woman's real right to choose.



Supported by
Alliance for Choice (Ireland), Associazionione Blimunda, Milano, Italy, ENS Women, Greenwich National Union of Teachers, Islington Local Government Unison, Feminist Fightback,Left Women's Network (LRC), London Coalition Against Poverty ,London Third Wave Feminists
Bernadette Devlin, MP for Mid-Ulster 1969-74
Trade Unionists for Choice
NUT executive: Julie Lyon-Taylor (Merseyside and Cheshire), Christine Hood (Hertfordshire, Beds, Luton), Nina Franklin (Bristol, Bath, Somerset and South Gloucester), Tony Tonks (West Midlands), Patrick Murphy (West Yorkshire),Helen Andrews (Greater Manchester), Ian Murch (National Treasurer), Dave Harvey (Outer London), Pete Bevis (South Yorkshire), Baljeet Ghale (ex-President), Roger King (West Midlands), Jane Rudon (City of Leicester, Leicester and Northampton), Gill
Goodswen (Vice President), Hazel Danson (West Yorkshire), Max Hyde (Gloucester, Hereford, Warwickshire, Worcestershire), Kevin Courtney (Inner London).
NUT: Liam Conway (Notts Assistant Division Secretary), Jo Hill (Bradford president), Tim Hales (Leeds Assistant Division Secretary), Pat Markey (Northampton Association Secretary), Kirstie Paton (Greenwich President), Joe Flynn (Croydon NUT workplace school rep)
Unison executive: Kate Ahrens (Leicestershire health, pc), Ali Brown (South Yorkshire ambulance pc)
Unison: Mike Fenwick (Leeds health pc), Anita Downs (Branch Secretary Guys and St Thomas' health, pc), Frances Bradley (East Lancs Women's Officer), Heenal Rajani (Lambeth Living convenor, Lambeth local government), Rebecca Galbraith (shop steward, Queen Elizabeth hospital, Woolwich), Gary Whiting (Lambeth local government shop steward), James Caspell (Unison shop steward and Lambeth local government young members officer), Ed Whitby (Newcastle City Unison Political Officer, pc), Denis Wise (Bristol Unison International Officer), Jill Mountford (Lewisham local government), Anna Longman (shop steward, Islington local government), Caroline Henry (Sheffield probation service), Ian McKendrick (Oxfordshire health Communications Officer), Jean Lane
(Tower Hamlets Unison shop steward, pc), Marsha Jane (Unison Greenwich and Co-chair of the Socialist Youth Network), George Binette (Convenor, Camden Unison/Chair Camden Trades Council pc)
TGWU-Unite: Faz Velmi (TGWU-Unite 1/1148 South London Voluntary Sector branch and delegate to Lambeth and Battersea & Wandsworth Trades Councils)
GMB: Rory MacQueen (GMB London Young Members), Daniel Randall (GMB Yorkshire Young Members)
RMT: Janine Booth (RMT Women's Advisory Committee), Becky Crocker (Camden RMT), Hannah Wood (Camden RMT), Adrian Rowe (LGBT Representative), J. Parry (RMT YM Chair)
PCS: John Moloney, Karen Johnson, Chris Hickey, Andrew Charles, Charlie McDonald
NUJ: Tom Davies (NUJ NEC Member) TUC: Hazel Rees (TUC Young Members Forum Vice Chair) Max Munday (T&G shop steward, Yorkshire & Humberside TUC Youth Forum convenor)
Students for Choice
Jennie Killip (Manchester University SU women's officer, NUS Women's Committee), Laura Schwartz (NUS Women's Committee open place), Gemma Short (NUS Women's Committee open place), Heather Shaw (Sheffield College SU President), Sofie Buckland (NUS Women's Committee Bisexual Rep), Ruth Pearce (NUS Women's Committee), Debbie Hollingsworth (former Ruskin College women's officer), Evangeline Holland-Ramsey (Huddersfield University SU LGBT Officer, NUS Women's Comittee co-FE rep), Katie Sutton (Derby University SU Women's Officer, NUS Women's Committee
National Council rep), Harri Sutherland-Kay (University of Portsmouth SU Women's Officer), Kath McMahon (Edinburgh University Students' Association), Alex Wood (Aston Students' Guild Equalities Officer)
Amendments to the Human Fertilisation and Embryology Bill — to be debated in Parliament in May — are likely to seek to reduce time limits for access to abortion. Some MPs, even some who are generally pro-choice, may vote for these changes, either because they agree with a lower time limit or in the hope that the changes will accompany liberalisation of access to early terminations.
But an attack on the time limit will have devastating impact on the small number of women who need later abortion — often vulnerable women facing unusual and difficult circumstances such as late diagnosis of pregnancy, rape or domestic abuse or NHS delays. Such changes will be an attack on a woman's right to choose!
Feminist Fightback will be organising leafleting in the Clapham junction area, in south London on Saturday 26th April from 1pm, followed by a protest outside the Battersea Labour Party office targeting local Labour MPs who are wavering on the issue — Martin Linton (Battersea), Kate Hoey (Vauxhall) and Sadiq Khan (Tooting).
The aim of the leafleting is to raise public awareness of the issues involved and to raise a broad series of pro-choice demands, relating not only to abortion rights, but to sex education, childcare, the NHS and the welfare state.
Come along, bring your friends. Any if you can help get in touch: feminist.fightback@gmail.com
This action is part of a week of action on this issue including a lobby of parliament on Wenesday 7 May. 3-6pm lobby of Parliament and 7pm public meeting (venue tbc). More details go to www.abortionrights.org.uk
FULL DETAILS…..
Saturday 26th April
Meet 1pm, outside the front of Clapham Junction station (five-ten minutes from both Waterloo and Victoria). We will be wearing red Feminist Fightback T-shirts.
Then meet 2.15pm, outside Battersea Labour Party office, 177 Lavender Hill, London SW11 5LW
Today, we march alongside women on the Million Women Rise March with solidarity and respect. We are energised and excited to be a part of a rising tide of feminist activism. We are here to march and to show our resistance to the continued oppression and exploitation that the majority of women the world over continue to experience. We therefore think it is more important than ever to build a movement and develop a feminist politics that can fight for liberation and equality. Because of this, we think it is crucial for us to think hard about the kind of feminism that we want to work for…
We are feminists who want to link our fight for women rights with other movements for social justice and all struggles against capitalism and exploitation. We think as feminists it is crucial that we build alliances between these different struggles and to focus on the ways in which they interconnect. We do not think it is useful to prioritise one form of oppression over another, or to focus simply on women's rights as separate from a wider system of exploitation. The privileging of gender (above race, sexuality or class) leads to the idea of women as eternal victims; to an ahistorical and static concept of patriarchy or male power; and to fruitless competition over who is 'more oppressed' according to different identity categories. This approach has been heavily criticised for taking the experience of white middle class women as standard and ignoring the experience of BME and working class women.
We understand all oppressions to be rooted within capitalism and the racist and patriarchal ideologies it produces. For this reason we do not think that real liberation for women can be achieved without also fighting capitalism. By capitalism we mean a system of power and control, which relies upon the exploitation of the working class and that puts profit before the needs people and the planet.
Violence and exploitation take many forms. It is of course crucial to oppose rape and sexual abuse but equally it must be understood that violence is not just perpetrated by individuals, but also by the state and in the name of big business. Immigration controls, sweatshop labour, poverty, police brutality, military imperialism and the denial of reproductive freedom are all forms of violence and must be named as such and opposed by all.
We support all women organising in their workplaces and against their bosses, be they sex workers, sweatshop workers or supermarket workers, teachers or train drivers, and we stand in solidarity with all women fighting for their rights- wherever they are in the world. For this reason we oppose the Million Women's Rise definition of prostitution which links domestic abuse, rape and commercial sexual exploitation. For the thousands of women who work in the sex industry this demand is not only offensive but dangerous. To deny women the ability to choose to work in the sex industry is to deny their fight for better wages and working conditions. The demand to criminalise sex workers and the sex industry only serves to further the marginalisation and exploitation that sex workers currently face.
We want our campaigns and politics to empower women to fight their own exploitation rather than to depend on others for protection. We do not think a feminist movement should look to charitable organisations or 'experts' to bestow our rights upon us, but that we should build a movement involving as many women and men as possible to bring about liberation from below.
We demand:

- Reproductive freedom for all – including abortion on demand; a free publicly-funded health service; increased benefits for single mothers; IVF access for same sex couples and single women; better sex education and an end to forced sterilisation.

- A living wage and safe working conditions for all workers, including migrants without papers.

- Support for independent trade unions.

- Freedom of movement for all, an end to the deportation of all migrants and asylum seekers and the abolition of detention centres.

- The decriminalisation of sex work and support for the unionisation of sex workers.

- An end to the curtailment of civil liberties and the criminalisation of ethnic and religious minority communities.
Join the Feminist Fightback picket of the Christian Medical Foundation to defend the time limit on abortion and oppose attacks on the reproductive rights that women have won in the last 40 years.
Friday 25th Jan 4pm, 6 Marshalea Road, SE1 1HL London (nearest tubes London Bridge and Borough High Street)
The Christian Medical Foundation is lobbying the government hard over the Human Fertilisation and Embryology Bill currently being discussed in parliament, in favour of reducing the time limit on abortions. The Christian Medical Foundation was recently exposed when at least eight of its members gave evidence to the government Inquiry by the Science and Technology Committee into the future of abortion law in Britain which claimed that abortion harmed a woman's health- without disclosing their membership of the CMF (see here).
The CMF also hosts the minority report produced by the Conservative MP Nadine Dorries who has also in the past introduced a Bill to cut back the time limit.
For more information call Laura on 07890 209479 or email
laura_schwartz2003@yahoo.co.uk
Feminist Fightback Conference 2006, 21 October, School of Oriental and African Studies
Founding statement
Conference report
Agenda
Feminist Fightback 2007, 20 October, University of East London
---